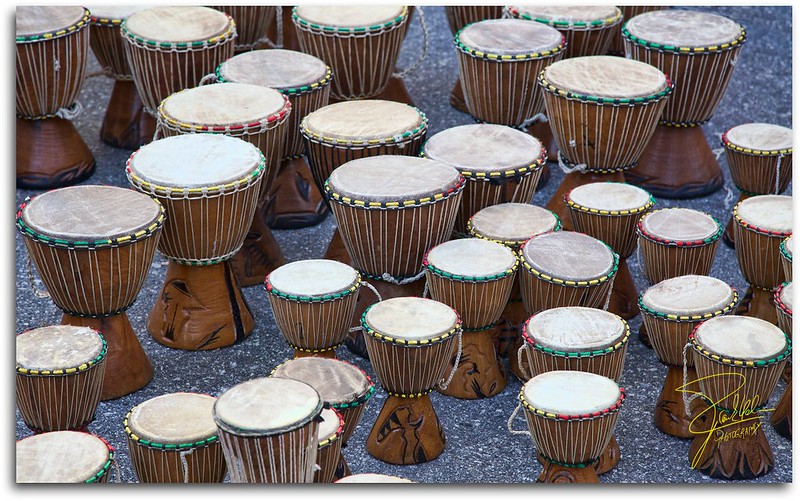 FreeDrum invites people in towns all over the world to come together to drum and create music together in the name of freedom, diversity and fairness for all.
Born in Huddersfield, West Yorkshire, FreeDrum started with a group of drumming enthusiasts who met at A Stand In The Park (SITP). They decided to meet at the park again mid-week to start a drum circle to have fun and build their friendships. Even with their limited experience, on the first week the drumming drew in members of the public to watch and join in. The idea arose that the drum circle could be used as a way to help spread awareness about the lack of freedoms that had been removed due to the 'pandemic', so they soon started handing out "The Light" newspapers and leaflets to anyone who stopped to pay attention, as well as inviting them to join in. As the drumming puts people in a relaxed, joyous state, the outreach was quite successful!
The group had so much fun they decided to give themselves a name: "FreeDrum", drumming in the name of freedom!
The idea is simple:
Take a drum and a group of friends (or just yourself!) to your local park or town centre along with a couple of spare drums.
Start playing and invite members of the public to join in with you.
As the group grows, some can hand out papers and leaflets to help spread the truth about the 'pandemic', whilst the others continue to play.
It's a lot of fun! You make a really positive impact, which is noticeable by all the lovely smiles you get. Children are mesmerized by the drumming and love to join in as well!
Would you like to start a drum circle in your local town?
Just send in the location and time you want to drum, we'll put the word out and get you some drummers.